Sherrard FFA Works as a Team to win big in Horse Judging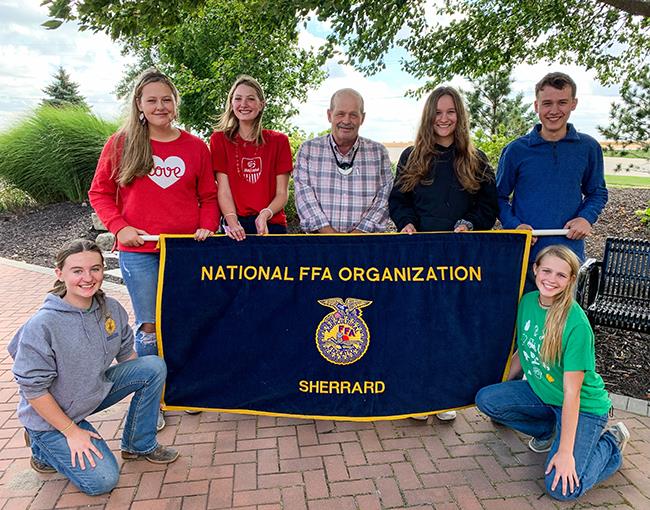 Sherrard FFA students worked as a team to place first in the horse judging contest at Black Hawk East last Saturday, Sept. 18.
From left, Abby Weber (kneeling), Lily Passno, Anna Taylor, Ag Instructor and FFA Advisor Bill Hammes, Alexis Wehrheim,
Andrew Wehrheim, and Kylie Foster (kneeling).
"We all have our own expertise that went into winning - so we were consistent with our scores," said Alexis Wehrheim, a Sherrard sophomore about her team's win last Saturday.

The Sherrard FFA team won first place in the Non-Reasons division out of 46 schools in the Illinois State FFA Horse Evaluation CDE (Career Development Event) competition held at Black Hawk East, Kewanee on Saturday, Sept. 18.

The team has four members, Wehrheim's twin brother Andrew and juniors Anna Taylor, and Lily Passno.

Sherrard Ag teacher and FFA Advisor Bill Hammes explained how horse judging competitions work, "In a contest, they will have four animals in the class. The contestants will place them first through fourth place, depending on how they see it. Their placing is compared to the officials, and how the professionals place them, and the points are given on how close or far away they are to them. 50 points is a perfect score."

Hammes said it's amazing to him that individually, none of the kids placed in the top 10 as individuals, "Their individual placings ranged from 14th to 25th. Their consistency is what carried them through."

He said in the 4 Performance (or riding) classes, students judged things like whether the horse and rider complete the pattern correctly, if the horse resisted any of the commands, the height the horse carries it's head, head bobbing, does the horse fully extend its legs when at the walk, trot and canter, along with good attitude/character, etc.

In the 4 halter classes students judge the horse's conformation and balance, how defined the horse's muscles are especially in the gaskins and between the stifles,, "If the horse has too long of a neck, or too big of a head, it looks goofy, so you would place another horse over them," said Alexis Wehrheim.

Andrew said the purpose is to, "Get to know the horse, and figure out the horse world," to help develop the skills for choosing their own quality horses - depending on their use.

He explained the process, "We're on opposite sides (of the arena), all spread apart. We really had to trust each other to try to make it work." He said there were so many other people, they had to try to cut in front of them, "Otherwise you can't see. You get like 15 min. For each class to judge it."

"I wasn't expecting to get that far," when Mr. Hammes told Taylor they placed first, she had a big reaction, "I was about to start crying, I was just so happy."

Alexis said they only practiced a handful of times - and they were all shocked they won, since they signed up for the competition so late in the game.

"We already have an idea of what to look for… Our knowledge and what Mr. Hammes taught us - it came together and we all pulled it off," said Alexis.

Taylor said she already knew what some of the judges would be looking for - since she has shown horses since age 10.

"I have a very nice halter mare. She's been to Europe - the people who had her before did world shows." She said her favorite part was working as a team.

Alexis said when they first arrived, they were nervous by the large number of competitors, "We just went for it…

"I was surprised - it was over the moon happiness," said Alexis of the win.

Each team member comes from a long background of showing horses and riding which proved invaluable. They each had strengths in different aspects that coalesced to form a force to be reckoned with.

In the Non-Reasons Division they do not move on to the next level - but they plan to prepare in advance for next year's competition and sign up for Reasons Division. Had they won first in the Reasons Division they would go on to compete at the National level.